Shor-Line Honored as Kansas Exporter of the Year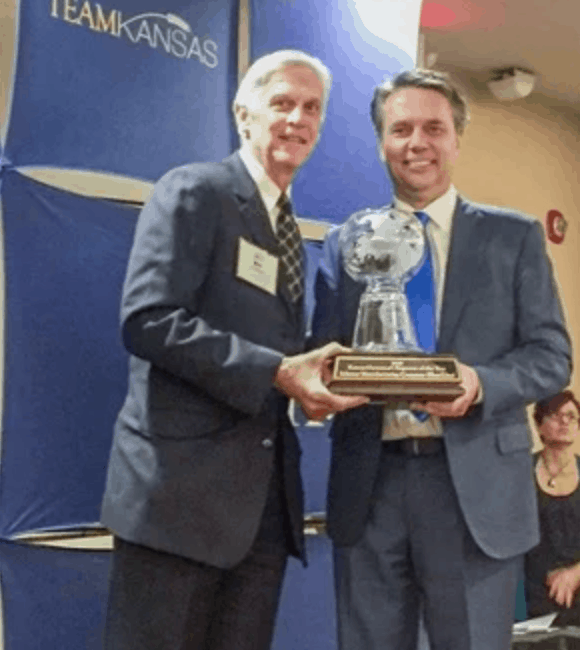 Shor-Line was named the Kansas Governor's Exporter of the Year for 2018. The annual award honors a Kansas company that has exhibited excellence in conducting international trade.
"We are thrilled to be named Exporter of the Year. This award is a testament to the hard work of everyone at Shor-Line, both overseas and in the Kansas City office. Our grandfather who founded Shor-Line in 1927 and our parents who guided the business for many years would be proud indeed," said Richard Donahue, Chairman of the Board.
This award recognizes the company's international business activities that began over five decades ago. These efforts accelerated in 1985 when current company President, Joe Schroer, headed overseas to establish a related sales and warehousing operation in the United Kingdom. Reflecting on this strategic move, Mr. Schroer commented that: "Expansion into Europe allowed us to have persons dedicated to the Shor-Line brand who were more geographically and culturally aligned with our developing customer base."
Shor-Line today has an extensive international distributor network and related operations not only in the UK but also in China. Solid market shares exist in Europe, Australia, Canada and Mexico. In Asia, Shor-Line has long serviced customers in Japan, Hong Kong and Taiwan. New export opportunities continue to develop especially in various Central and South American countries.
As a third generation privately held business, Shor-Line's management team sees international expansion as a very important part of its business plan. Emphasis will be placed not only visiting our trade partners but also on attending international trade shows to better understand foreign markets and develop new business relationships.
As the company moves through its 91st year in business, the future is quite bright especially with the continuing evolution of societal views on animal welfare. With this trend accelerating internationally and enhancing the standards for the treatment and care of pets, demand will only increase for quality companion animal products such as those made by Shor-Line.
Shor-Line has made its name in international circles through the dedication of its employees and international partners. With the continued support of these associates, the company is excited to participate in the future growth of the veterinary and animal care businesses internationally.