The Low Stress Side of Stainless Steel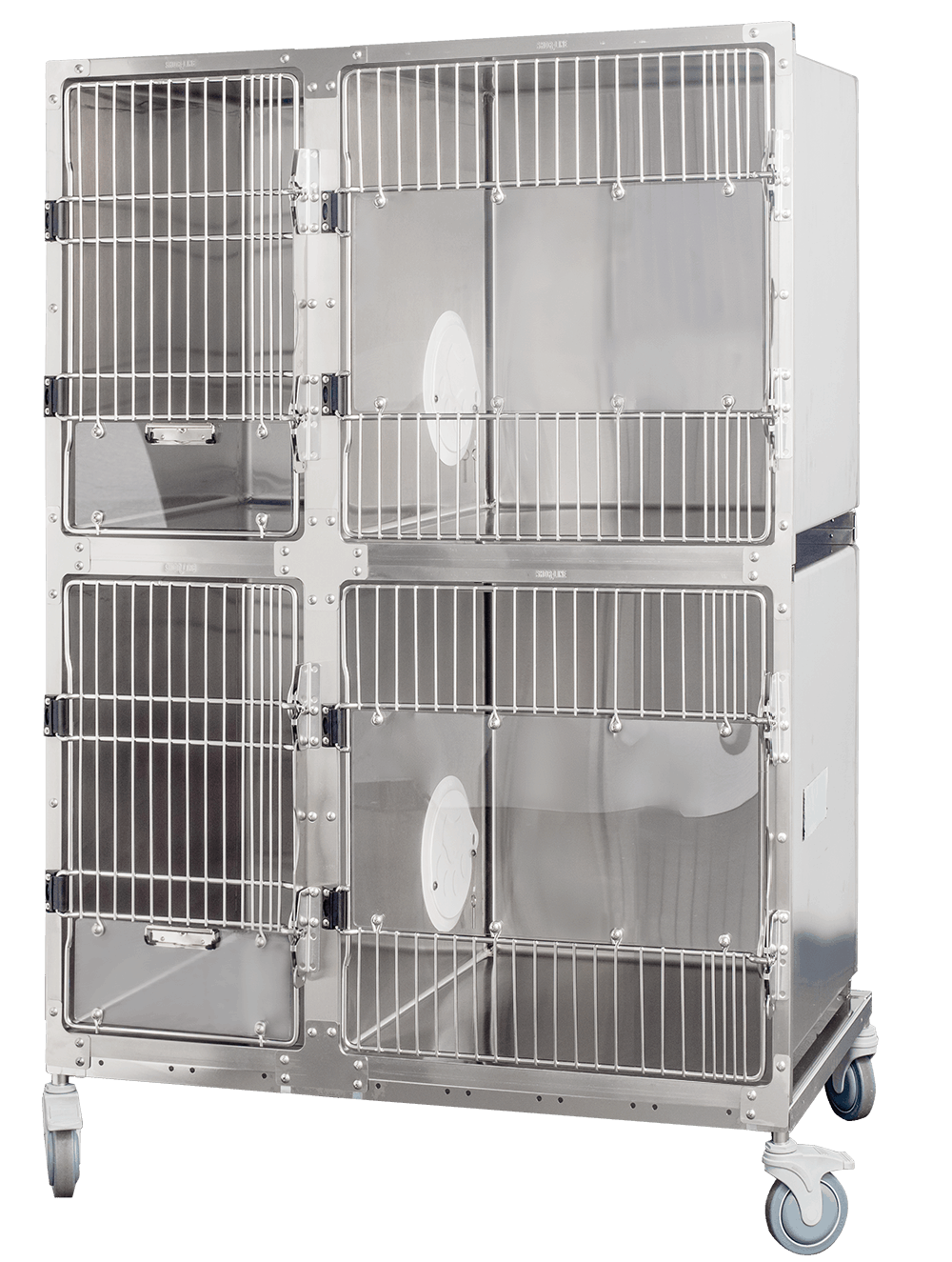 The last ten years have been the decade of enlightenment for feline shelter housing. Lessons from university research are offering new insight into the best cages for cats.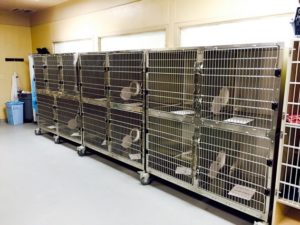 The many positives that Stainless Steel has historically offered now has a facelift to meet the needs of today's felines. What researchers have found is that giving cats more space (ideally one meter squared or 11 square feet) helped.
"Providing excellent housing and a good housing environment immediately on intake can offset stress and support the cat's health through this critical transition," according to "Shelter Housing for Cats: Practical Aspects of Design and Construction, and Adaptation of Existing Accommodation" by Drs. Denae Wagner, Kate Hurley and Jenny Stavisky, which was published in The Journal of Feline Medicine and Surgery.
The Kat Portal connects two Shor-Line cages with an ABS portal. During the installation, you will install a PVC spacer between the cages to maintain the integrity of your cages. The final product allows you to keep the portal open for unlimited pass-throughs or close it off for cleaning or individual housing.
The Kat Portal concept has been a popular aspect of the Million Cat Challenge. In fact, the challenge was so successful that it reached its goals and is now headed for three million.
Shor-Line Serenity Suite + Stainless Steel Cat Suite
To address the new university recommendations and needs of felines, Shor-Line developed a new series of cage assemblies that build in extra space and feline low stress features.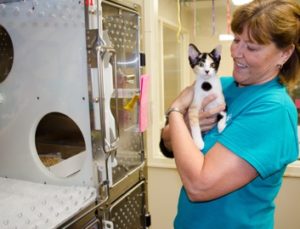 Stainless Steel Cat Suite is a premium unit that gives you the best of both worlds...sturdy Stainless Steel caging and gentle polyethylene dividers, a Quiet-Close Latch and resting bench. There is a top and bottom pass through that you control from the outside. This is perfect for feral or semi-feral cats making the adjustment to housing.
This unit is sold with an attached litter (12"W) and the main unit can be 24" or 36"W. The most popular choice is stacking two-high in an assembly.
This has become a standard of care for many shelters because it allows the cat to make choices. Those choices have been shown to decrease stress, which helps the cat's immune system.
The Serenity Suite is based on the newly introduced Feline Comfort Suite. The popular Tri-Door has a polycarbonate middle section at cat eye level, allowing the feline to peer through without bars. It has an 18"W litter area that allows the cat to posture correctly for defecation, which reduces stress. A Kat Portal is built in to allow the cat to move from the litter to the main area.
It has details to help reduce sound, such as our Quiet-Closing Latch and sound dampening patches. It is perfect for adding a Kat Kave. The cat can lounge on the concave top or hide underneath. And the rounded corners are easy to clean.
A change for the better
These three improvements to Stainless Steel housing helps cats stay healthier. Whether it is a retrofit for a shelter or a new installation, the benefits of Stainless Steel make good housing for felines.
"Just as poor housing can profoundly compromise welfare, good housing can be a powerful tool in promoting positive welfare," according to "Shelter Housing for Cats: Principles of Design for Health, Shelter, and Rehoming" by Drs. Denae Wagner, Kate Hurley and Jenny Stavisky, published in The Journal of Feline Medicine and Surgery.