5 Ways to Repurpose Your Shor-Line Cage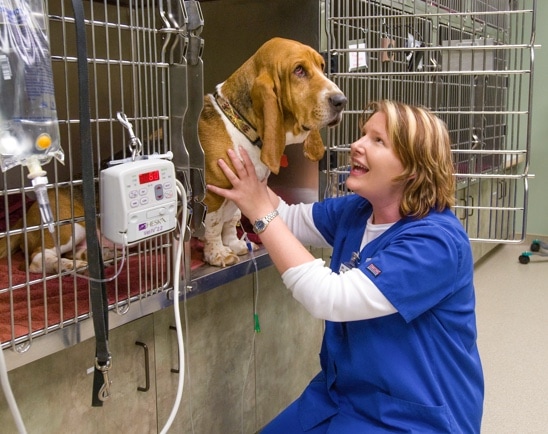 Shor-Line cages are our most popular product. There are millions of Shor-Line cages happily serving veterinarians, shelters, animal control, groomers and boarders.
As part of our continuous improvement, Shor-Line has developed new and innovative ways for you to repurpose Shor-Line cages to work harder for you. Here are five ways you can modify your cages: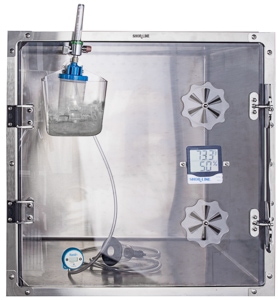 You can transform almost all Shor-Line doors into an oxygen therapy kennel. Our new and improved O2 door is an ideal tool for managing all kinds of oxygen needs in pets. Pair it with a mobile oxygen concentrator that makes medical-grade oxygen from room air, and you have an effective critical care cage.
We also offer accessories, such as an O2 analyzer for measuring O2 concentration in the cage, and an oxygen therapy kit that pairs a small animal mask and O2 tubing to place oxygen directly on or next to your patient.
Read more about our O2 cages and download the information sheet. Our helpful staff can help you order for Type III cages or modify Type I cages to fit the Oxygen Therapy Door. (It does not work with Type II cages.)
Cage Valets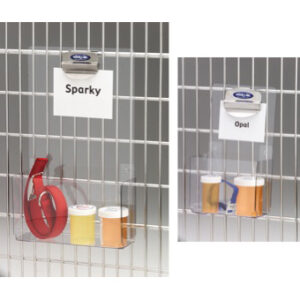 Organizing with Cage Valets can be life-changing for animal care facilities. With hundreds of animals coming and going, keeping track of their "stuff" takes on a life of its own. Tame the problem by installing Cage Valets.
It is a polycarbonate clipboard that hooks onto a cage or kennel run and has a 3"D polycarbonate "pouch" for placing personal belongings, toys, treats or medications. It comes in small (5-1/2"W x 10-1/2"H) or large (9"W x 15"H). Most people use the small for cages and the large for kennel runs.
The same sizes are available with suction cups to attach to tempered glass or polycarbonate doors.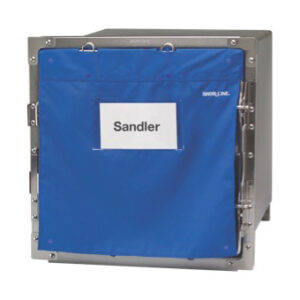 Shor-Line has made many improvements that reduce boarding stress for dogs and cats. Our standard cage hinges are Stainless Steel covered with a polymer casing that dampens the closing sound. You can add additional retrofits to reduce sound.
Our Quiet-Closing Latch is standard on our Feline Comfort Suites. You can add that to your feline Stainless Steel cages as a retrofit. Order by cage height, and feel free to reach out to our helpful sales team at 800.444.1579 for how to do this for your facility.
The Quiet-Time Cage Door Cover is another must-have products. We developed them to help staff who expressed frustration at towel make-dos they put up to calm anxious patients. This blue nylon cover is lightweight, folds halfway to give an option for half-open and includes a name card for staff ease. Once staff tries these, they never want to go back to towels!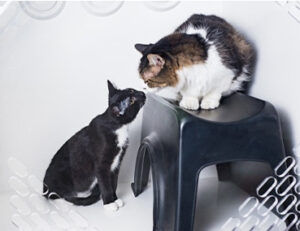 Studies show that felines stay healthier when their needs are met and their stress is reduced. We developed the Kat Kave with veterinary feline leaders. The goal was to provide a durable and stylish product that provided calm to felines.
The Kat Kave is an easy-to-clean polyethylene resting feature that felines love because of its concave top for curling up in and three openings below for playing and hiding. With in a few minutes of having the Kat Kave, felines start exploring and playing.
Staff love it because it removes easily for cleaning and sanitizing and it stacks easily for storage.
Kat and Puppy Portals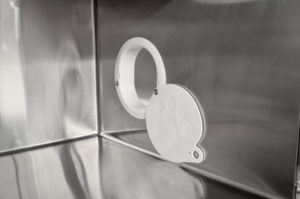 Portals are revolutionizing shelters and making their way into veterinary practices. The concept is simple. Shor-Line worked with shelters and animal control facilities as far back as the 1950s on housing needs. Back then, 24"W cages were standard. Shelter veterinarians now universally agree that felines need more space to stay healthy.
Enter the Kat Portal. Shor-Line backed the research done by UC Davis and other shelter veterinary programs to cut holes in two adjacent Shor-Line cages and insert a "portal" to allow the cat to easily transfer from one side to another. And the portal can close off or cleaning or when extra housing is needed.
What the researchers found was that the portals greatly reduced feline stress, and that made the cats healthier. And the fear of losing housing openings was relieved when shelters found they could keep the portals open when possible and revert back if they needed the space.
Shor-Line has continued to work on improving the portal to provide a sturdy, reliable Kat Portal and Puppy Portal.
More Ideas for Cages
We are inspired by all the ways our customers use Shor-Line cages. Share your ideas with us!
We have many more modifications or retrofits that help:
Flooring helps keep pets boarding clean. We offer Lightweight Cage Floors and PVC-Coated Floors.
Help with fractious patients. The Squeeze Restraint is a simple solution you can add to most Shor-Line cages to move fractious patients to the front of the cage for treatments.
Going mobile. It is never too late to go mobile by adding a mobile platform to your cage bank. Talk with our team about the best way to make your bank mobile.
Use our contact form to request whatever help you need. Add photos for quickest service (we can get with people to solve the problem before we talk with you, saving you time). We are here to help.